This week, I am featuring Sew Much Ado!

I seriously about fainted when I saw that she made this!
You do not even want to know the amount of money we spend on those silly Swiffer Duster refills! Plus (yes friends, it gets better!) I have a crapload of flannel left from a previous project that will be perfect for this!
You know what is also really neat about Sew Much Ado? She is dedicating the entire month of March to all things "green"!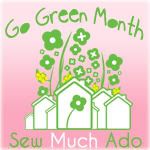 "It will be a really fun and informative month, including tutorials and SUPER guest bloggers which you won't want to miss out on."

Go check her out!

P.S. She also hosts a linky party every Wednesday... you can bet your cookies I'll be there!