TUESDAY
First of all, let me just take this opportunity to express my dislike for Fox. Fort Wayne has decided, for some reason, to take Fox away from regular cable. They only way we can watch it is if we have the HD channel, which we do, but only upstairs in the family room. Hence the reason for having to record my Fox Tuesday shows and watch them on Wednesday. Having said that, I will now bow at the feet of Rachel Berry and shout my love for Glee from the highest mountain... in Fort Wayne.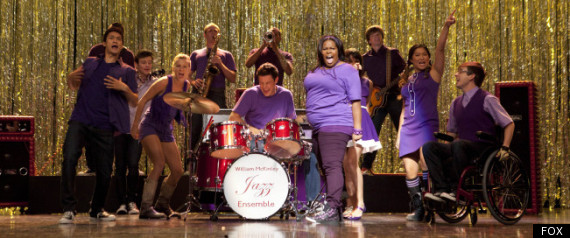 The cast arrives at school for the beginning of a new school year. The New Directions were short a few members. Sam left town with his dad, leaving Mercedes to find a new man. Side note: I really hope Mercedes has a bigger role this season. She and Artie have amazing voices and should be shown off more! Zizies quit after the loss at nationals because she was too good for a loser group. Quinn traded her long blond locks for a short hot pink cut. She's taken up a bad girl attitude and joined the ranks of the Skanks. Rachel tried to convince her that she needs to come back to the New Directions... Obviously she will eventually because, well, she has to.
In attempt to recruit new members to glee club, Mr. Schue came up with the Purple Piano Project. Basically, he saved three pianos from foreclosed homes, painted them purple, and strategically placed them throughout the school. The Gleeks were given instructions to break out into song when they came across the pianos. The cafeteria number was pretty sweet. It also prompted a food fight that I'm convinced has never happened in the real world. The pianos got destroyed but the glee club survived.
I thought Sue would give the kids a break this season because of the thoughtfulness they put into her sister's funeral at the end of last season. Instead, she completely destroyed one of the purple pianos with her own two hands. Schue and Emma glitter-bombed her and the rest was history!
I heart Glee.
---
Once upon a time there was this show that came on and made the world say, "Thank you! You are exactly what we have been waiting for!" That new show, my friends, is New Girl.
Zooey Deschanel is adorable! Her character, Jess, wanted to surprise her man so she came home early dressed in a trench coat and a bow. Unfortunately, she was the one surprised when, while breaking out in song, her man emerges from the bedroom... with his new woman. She goes on search for a new apartment and ends up living with three guys. The athlete, the douchebag, and the sweetheart. It was great and I can not wait to
break out I've Had the Time of My Life with my new besties
watch it next week!
WEDNESDAY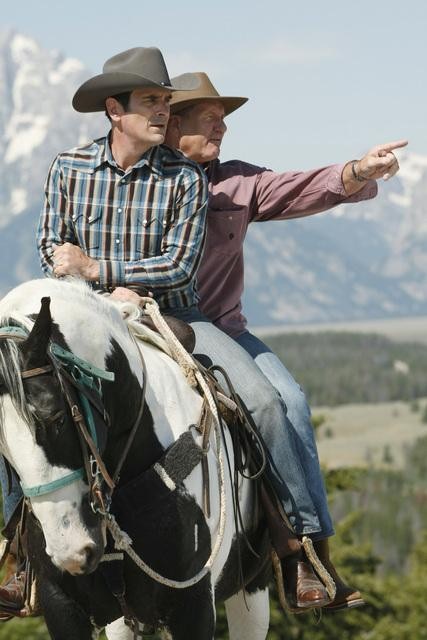 Modern Family premiered on Wednesday. It was hilarious, as usual. The only thing that I couldn't wrap my brain around was the fact that Lily went from newborn to toddler over the summer. Really, every time she was on screen, I complained. There wasn't an available Asian actress somewhere between 1 and 4 years old? Really?
The fam headed to a Dude Ranch. Dylan proposed to Hayley and Claire stole her proposal. Some dork with either an accent or speech impediment (I really couldn't tell) stole Alex's first kiss.
Mitchell was insecure about bringing a boy into his and Cam's family because he thinks he is too feminine. He tried to do "boy things" and helped Luke destroy a bird house with a firework (that part made me sad).
Philism of the episode: "Buffalo Phil -- worth the wait." -- in regards to his nickname.
Biggest LOL Moment:
Hayley: Dylan! Dylan!
Dylan: What?
Hayley: Where are you?
Dylan: Wyoming!
The second hour was just as funny! Cam glitterfied the family scrapbook in attempt to impress adoption agencies. He was also trying to plan out how to tell the family that he and Mitchell were going to adopt a little boy. I LOVED the sparklers/Let's Hear It For the Boys combo! HILarious!
Philism: Claire: Okay, can you grab me an extra virgin…
Phil: I think one's enough for the sacrifice.
Claire …olive oil, Phil.
LOL Moment: Cam: My sister was born with a full set of teeth.
Mitchell: That never happened.
Cam: Oh, yea? You should have seen her crib. It looked like beavers lived there.