It's about to get ca-razy around here! There is less than a week left until the jolly 'ol elf comes for a visit. In case you are super stumped on what to buy for someone on your list, let me help!
My List
If you haven't been listening to Yiruma on Pandora, you have been missing out! He is amazing! I definitely want
one of his CDs
(especially the import, Piano Museum) for Christmas this year.
On my list of "Things that would make my life a whole lot easier," this is number one. The
Chicago Metallic Batter Dispenser
. Do you even know how many times a year I make cupcakes? Well, probably only four (two batches for each girl's birthday parties) but when using a spoon to sloppily pour the batter into the cups, it seems like a million! This nifty little gadget will definitely be the first thing I buy for myself if it doesn't find it's way under our tree.
Santa Mike came early this year and actually surprised me by giving me one of my gifts early! I got a full year of
HGTV sent straight to my mailbox
! My house will look awesome in 2013, I promise you!
You people already know how much I LOVE to read, right? Believe it or not, I still haven't read every single book ever published in the United States. Close, but not quite. A couple from my list this year are by two of my favorite authors,
Jodi Picoult
and
James Patterson
. Can't go wrong with either!
Speaking of reading, you all read The
Hunger Games trilogy
, right? Me, too. BUT, did you see
the movie
?? I DID NOT. Teensy bit angry about that. I'd be a super happy camper to find this DVD under my tree this year!
Mike's List
Not necessarily what I bought him or know that he is getting... because he reads my blog :o) These items came straight from his list!
Finding out what is on Mike's coveted list each year is a tough task. He never really asks for anything except gift cards. If that's how your guy is, you can't go wrong with a GC to
Best Buy
!
If you are a normal person, you probably keep your tools in a toolbox, right? Well, us McClures keep our tools in the wheelbarrow. That's how we roll... literally. Truth is, we have so many random tools, we just don't have a place for them. That, and the fact that we still haven't truly got our garage organized yet since moving in. The wheelbarrow was there and not being used (because our leaves are still on our tree, dead) so we tossed the tools in it! Mike wants a toolbox and this
Craftsman 3-Drawer Metal Portable Chest
is the one he wishes to have.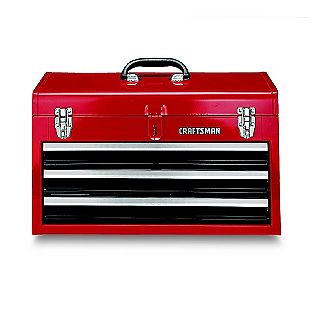 If your hubs is into video games, I hear
this one
is pretty cool. Mike wants it, anyway!
I love weekends and rainy days. You know why? Because I love sweat pants! Mike does not own a pair of sweat pants. He has not worn them since he was a kid. Part of me feels sorry for what he's been missing out on. Similar to how I feel about Jaden not eating cheeseburgers. Anyway, I did a happy dance when Mike asked for sweats! We can
lounge together
:o)
A no-fail gift for guys is always cologne. It takes me about 10 years to kill a bottle of perfume, but Mike can go through a bottle of cologne in exactly a year. He's got some secret skills. His fav is
Eternity by CK
.
Jaden's & Taylor's Lists
Jaden has a friend that has a Nook. Jaden has a friend that has a DS. Jaden has a friend that has an iPod Touch. Jaden wants ALL of those! Gramma J stepped in and discovered the
InnoTab 2 from VTech
. It is basically a tablet for kids that has all of the fun features of a Nook, DS, and iPod Touch... plus more! Also, seeing how well Taylor has taken to the Mobigo, we think this will be great for her, too!
My kids LOVE to draw and practice writing! Both girls are already in love with their Magnadoodles and have recently discovered what fun a dry erase board can be! When I saw the
Crayola Dry Erase Activity Center
, I knew this would be a gift that both of my girls would love! They can slide in different worksheets and activity pages. PERFECT for Jaden learning to write her sentences and Taylor learning to write her ABCs!
We are a movie-loving family. We own well over 1000 DVDs. It's perfect because there is always something to watch! And honestly, it is cheaper to buy the DVD than it is to take my family of 4 to the movie theater. The top movies on the girls' wish lists this year are
Brave
and
Dora's Fantastic Gymnastics Adventure
!
Taylor's favorite thing to do is have tea parties with her babies. I'm pretty sure she'll flip out over this
Graco Doll High Chair
for baby Maxine!
When Mike and I were shopping, we both got all nostalgic over the updated version of one of our favorite toys growing up. The Lite Bright! Both he and I loved creating the lighted pictures and knew Jaden would, too! The updated, LED flat screen version is pretty cool! I'm sure J will love it as much as her mom and dad did :o)
This just makes me feel OLD!
There you have it! Our 2012 Christmas lists :o) I am so excited to see the looks on the girls' faces on Christmas morning... that is, IF Taylor can get off of the naughty list!! Merry ALMOST Christmas!