SPOILER ALERT!
You've been warned. Proceed with caution!
Modern Family
Man alive, I LOVE this show! It is one of few that actually has me literally, LOL! The season kicked off last week in two parts. In the first half, Manny packs to leave on a trip to Columbia for a month. Jay can't find Manny's birth certificate so they have to go get a copy at the court house. Gloria has a hard time with the idea of being away from him and Jay worries she won't let him go. Jay knows that if Manny doesn't go, then the whole family comes to visit HIM! As he was leaving, Manny hands a note to Jay to give to Gloria. When Manny is gone, Gloria reads that it was a reminder for her to keep an eye on Jay :-) Jay found it touching and ended up missing Manny even more than Gloria.
Mitch and Cam celebrate the passing of proposition 8, the legalization of gay marriage in California! We've always known Mitch and Cam together, so now that they get to make it "official," both start coming up with a way to propose to the other. Cam wants to be the first one to pop the question and plans a romantic date.
Meanwhile, Claire convinces Mitch (in a few not so romantic ways) that he should be the one to propose.
Claire can't take having the kids home from summer vacation. She and Phil try to find a time away from them by coordinating Luke's camp with Haley's beach trip and Alex's volunteering excursion.
When Cam brings Mitch to a fancy restaurant, he knows somethings up. So he makes an excuse for them to leave so he can be the one to propose. Cam has a back up plan of his own, but on the way back home, they get a flat tire. They end up proposing to each other at the same time on the side of the road under the stars. Can't wait for the wedding planning to happen!!
In the second half of the premiere, Claire starts a new job at Jay's closet company. She brings in cookies for her new co-workers which annoys Jay (who ends up eating them all himself). She doesn't make a great first impression in the break room, and Jay finds out about it. Claire makes matters even worse when she tells the IT guy that he's about to be fired without Jay's knowledge. He ends up crashing the computer system and leaving before anyone knows.
Phil and Gloria take the kids to their first day of school. Both a little sad that Luke and Manny are starting high school, so they go to get coffee together. When they show up at the cafe, a commercial is shooting and the director asks them to sit in as extras. They take it a little too seriously and end up ruining the shoot. Can I just say that I love Phil!? He is so funny!!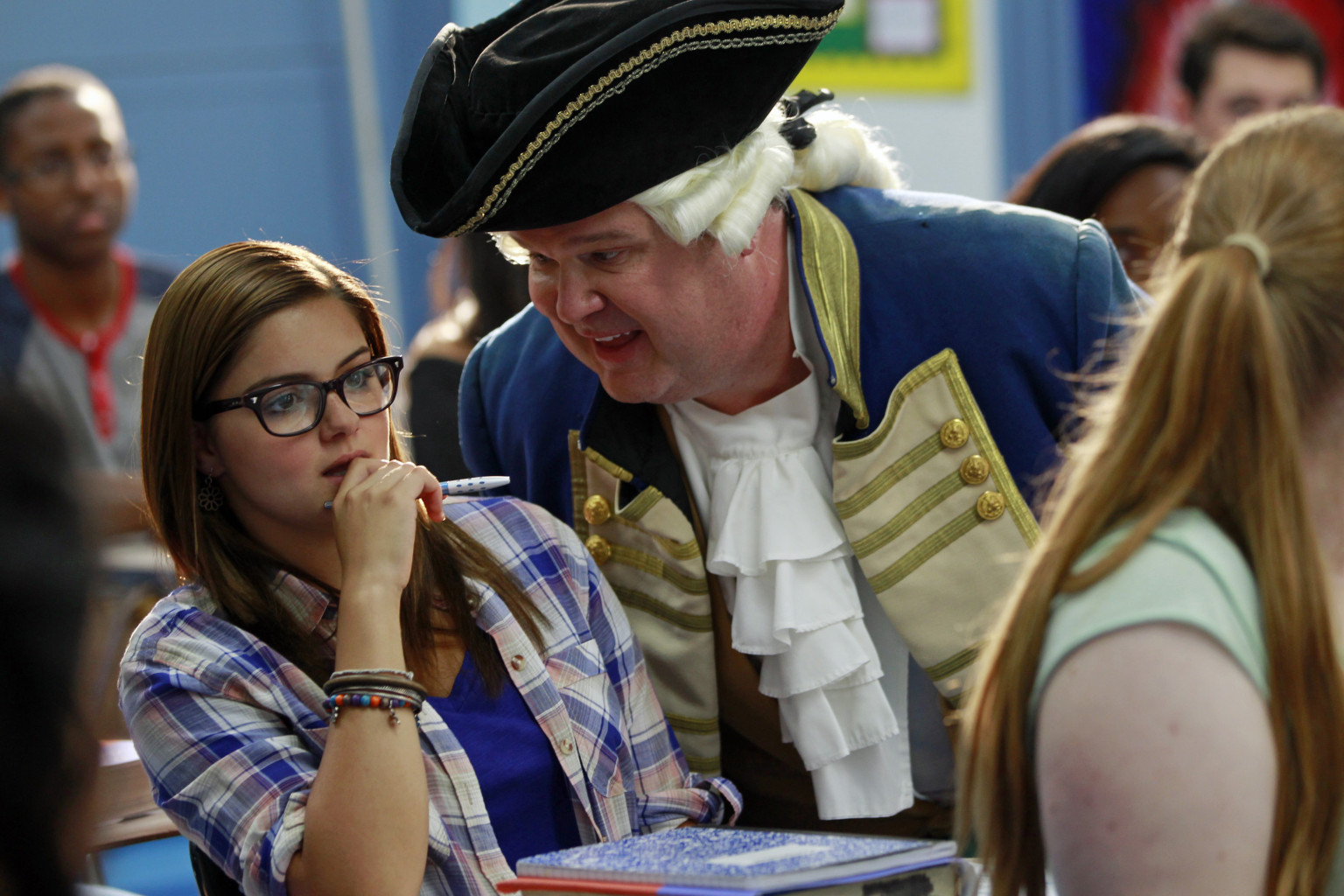 Cam gets a call to substitute at the kids' high school. When Cam arrives he finds out the teacher he is filling in for is in rehab and the job could become permanent. Too bad it's for AP History, and he doesn't know anything about it.
Alex is embarrassed when Cam shows up to teach her AP History class dressed in costume. It's also quite clear that he knows nothing about history. So Alex takes over the class and teaches the rest of the students. When Cam shows up to tell the principal he can't teach the history class, he ends up helping with the football team. So the principal offers him the gym teacher job as long as he agrees to coach the football team.
This premiere had everything we love about Modern Family all wrapped into one night! I'm so excited for this season :-)